DGD Logistics
Auckland, New Zealand
Joined in

February 2021
We believe on over doing safety, to ensure your property is well looked after. With over 1000 deliveries over the past few months,
we have improved our systems by using over rated ties, blankets and trolleys to provide an efficient move.

We'll work with you to ensure the best outcome possible.

The interior dimensions are 2.4m wide, 2.2m high and 5.4m deep /long.

"We'll make it Happen"
Verified
3 Jobs completed
Speaks
Reviews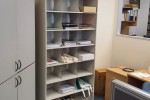 Des was helpful, friendly and punctual. Could not fault his service and will definitely use him again.
Reply from DGD Logistics
Service goes both ways, your willingness to help me with information help me provide a better service.
Regards Des, DGD Logistics.
Reviewed 27 February, 2021
Report review
Register to see more