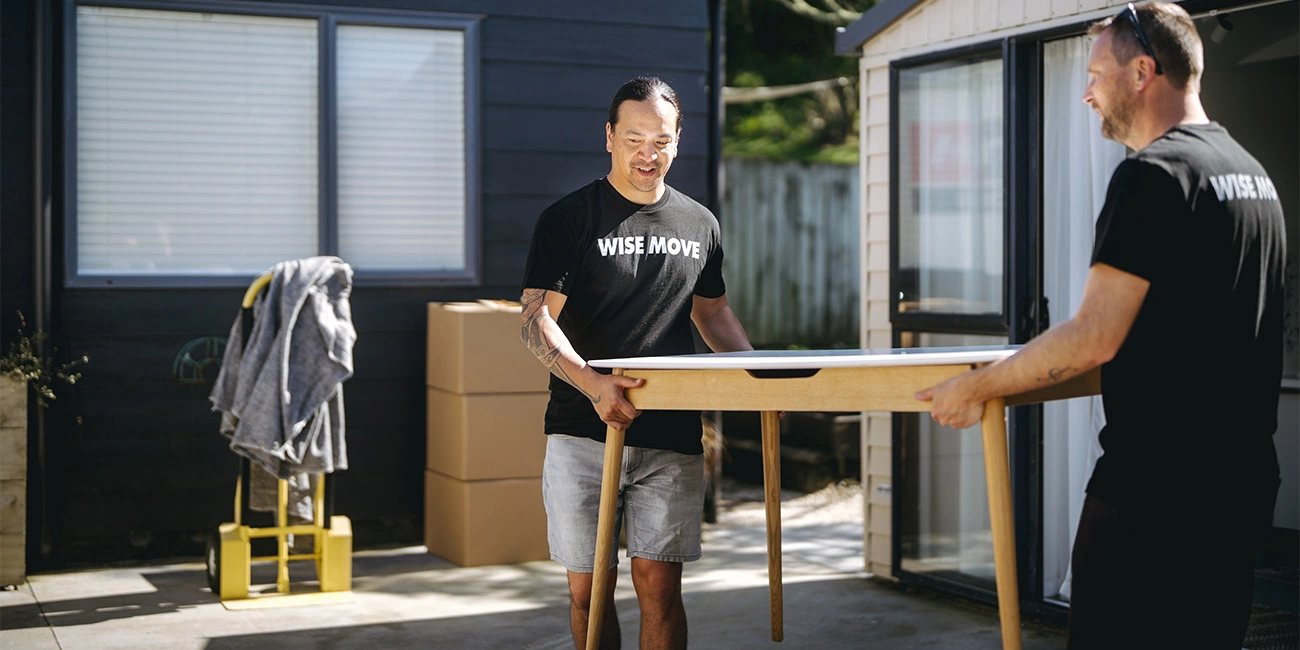 One seamless experience
Our teams will treat your possessions like they would their own, ensuring that the greatest care and diligence is taken.
Moving handled with care
The pristine condition of your possessions is our highest priority, whatever they are and wherever they're going.
Moving handled with care
Our experienced movers are known for having a trusted work ethic and have earned a reputation as some of New Zealand's most reliable removal companies.
We understand that every move is unique, so finding the best solution for your move is paramount. Once you have created a request, we reach out to moving companies in Christchurch relevant to your specifications and work tirelessly to provide the best possible moving experience.
We make sure to work with movers that always go the extra mile. Whether you need packing materials or just want to work with a team that will ensure your moving day goes as smoothly as possible, our movers have got you covered.
No matter what you need to move, we can help. Whether you need a singular item shifted across Christchurch or a home moved across the country. We have teams of experienced and skilled movers who can help with your relocation promptly and efficiently.
Our movers do the heavy lifting and loading of large items, so you never have to lift a finger. As expert removalists, you can rest assured that your possessions are in good hands. Our movers take care to stack your boxes and furniture in a way that ensures the integrity of your content and its packaging. Our trucks and vans are filled to maximise space and minimise damage.
To get the most out of your move, avoid overfilling your boxes. Each box should weigh less than 20kg. This will help prevent heavy boxes from sinking or squashing other items. Got heavy items that have to be boxed up? No worries! Label these boxes as HEAVY. Our movers will use these items as a base layer to keep your more delicate items protected. Boxes containing plates, glasses and other fragile items, should have FRAGILE clearly displayed on the side and top.
While there are many items we can move, there are some items we can't transport for you. These include hazardous materials, explosives, firearms, illegal substances, expensive jewellery, cash for travel, perishable and frozen goods. While it may be tempting to include these items without the knowledge of your movers, for their safety, please adhere to these rules.
Fully equipped
All our Christchurch movers come fully equipped with trolleys, blankets, toolboxes, and other necessary equipment.
Fully equipped
Our moving teams in Christchurch are highly skilled when it comes to moving large, unique or unusual items. We've safely moved everything from safes to cars, boats, motorcycles, gun cabinets, pets and pianos.
No matter what your move requires, our teams of removalists have the equipment and skill to move it safely. We do it all, from lifting large, heavy or awkwardly-shaped pieces of furniture, to manoeuvring items along narrow hallways and up multiple flights of stairs. Do you have a piano that needs to be moved into a second-floor room? Our movers can use hoist hire to make light work of your move.
We will also make sure your home is protected during the move. Special care is taken to protect your carpets, wooden floors, bannisters and doors prior to moving your furniture.
With so much choice at your fingertips, finding a van or truck to suit your move is simple. Our mover teams in Christchurch come equipped with everything from small-medium-sized transit vans to cargo trucks with storage totalling 30 cubic meters. We find the right vehicle for your needs, ensuring a smooth, efficient delivery no matter where in New Zealand your goods need to go.
7 days / week
Our service can be tailored to your needs on any day of the week, including public holidays and overnight transportation.
7 days / week
We know that often, your schedule might mean you only have a short window for your big move. Because of that, we always make sure our moving teams in Christchurch are as available as possible to suit your needs, working wherever you need them to get your removals on the go.
Unlike many moving companies in Christchurch, we have professionals available for removals every day of the week, from Monday to Sunday, with times to match your calendar. Advanced booking is always recommended, but we'll always try to accommodate wherever we can.
Thinking of moving but worried about public holidays? Don't be! Our teams are even available across most public holidays too. Just let us know your plans and we'll try our best to work something out with your professional of choice.
Whatever you need, it's our job to get things done to your satisfaction – wherever you're going, whenever it's needed.
Customisable service
Our service is customisable to your needs, with options for loading, unloading, disassembling and assembling.
Customisable service
No one move is the same – every customer has their own unique needs, and it's our responsibility to work to those requirements.
Our furniture movers in Christchurch offer a full service to those looking for convenience and ease – including everything from packing and loading, through to unpacking on the other side. You'll get to make the big move to your new home or office, safe in the knowledge that the entire process has been taken care of by our experts.
It's not just the moving and unpacking though; Wise Move professionals in Christchurch can also assist with all of the smaller, fiddly jobs that come hand in hand with removals. From disconnecting washing machines and securing electrical wiring, to preparing pianos and other instruments for moving, our specialists have the tools and know-how to get you and your possessions set.
On the other side, after unpacking, they'll be happy to reinstall white goods through the new property where we can so that you can get settled into your new home with as little hassle as possible. That's what it's all about.
Better yet, our removal teams in Christchurch can also include a clearance service as part of your quote. This service sees them remove any unwanted belongings from your home and dispose of them responsibly – repurposing and recycling where possible to ensure sustainability.
As with all of our other services, it's best to let us know in advance of the move exactly what you need, so that we can match you with the right people and tools for the job. If you have any questions about anything we can offer, just ask!
Single item delivery
It's not all about the big moves, sometimes you just need reliable removal teams to take care of one single delivery.
Deliveries for single items
From instruments to antiques, heirlooms to motorbikes, and wardrobes to sofas, we handle all kinds of single item deliveries for your ease and convenience with our single item delivery Man With a Van drivers.
Our removal teams in Christchurch have bags of experience. They'll know exactly how to pack, store and move your item, no matter how valuable it is – and they'll work with you closely to understand what your expectations and specifications are.
Your Wise Move mover will be friendly and accommodating, helping you package your item and loading it onto the appropriate vehicle from our fleet.
And when it comes to deadlines and locations, you can trust our people to hit any date, wherever it is in Christchurch or around New Zealand. Just give them a time and a place and they'll do everything we can to deliver on time.
For deliveries that hit the mark, go with Wise Move.
100% customer satisfaction
With over 23,041 reviews and a 9.7-rating our skilled pros from locations all over NZ are the best at what they do.
100% customer satisfaction
Everything we do is focused on creating a smooth and hassle-free moving experience for our customers. We've worked hard to build a platform that delivers on that promise at every stage of the process.
Because of that, our business has earned a 9.7 rating, with 23,041 reviews from loyal customers.
In addition, our business is rated 5-stars with over 2,500 reviews on Google Reviews.
But it's not just our reviews that set us apart. Over 85% of our service clients have passed our details onto their families and friends, thanks to the service we supplied to them.
Wherever we can, we'll also take all feedback into consideration – we're always constantly improving the way we do things to give back to our customers and employees. It's what keeps us at the top of our game.
Full packing service
Our packers are adept at packing everything from the smallest ornaments to large, bulky items.
Full packing service
We know it's not just what we move that matters. How we transport your items makes the biggest difference. Our experienced packers in Christchurch are adept and proficient in all types of packing, from the smallest ornaments to the largest items. We prepare everything with maximum efficiency and meticulous attention to detail to ensure your goods are safely cared for.
We'll pack your general goods quickly and efficiently to ensure fewer boxes and a faster move. When it comes to large or specialised items, we have a few methods to keep your goods safe.
Fragile Packing – whenever we pack valuable items, antiques or delicate memorabilia, we add an extra layer of bubble wrap and follow a strict procedure of placing the objects carefully into their respective boxes. Our packing teams are savvy with the refined art of fragile packing.
Blanket Wrap – for large or bulky items that still need protection, our packing teams will wrap your items in specialised thick blankets to protect them during transportation. We use this method with larger pieces of furniture that can't be disassembled or other items that can't fit into boxes.
Our moving teams in Christchurch use protective coverings to avoid any scuffs on your floor during the move. If your home contents don't fit through your door, our movers can remove doors or windows to gain access and fit them back afterwards.
Book easily online
Schedule when it works for you — as early as today. Choose a mover, pick a date and away you go.
Book easily online
It's simple and easy to create a booking online with Wise Move. With just one enquiry, you get access to a range of trusted, reliable movers in Christchurch without doing any leg work. Save yourself time and hassle, and book your move online now.
Finding a mover is easy. We ask all the right questions to ensure we know what you're moving, where you're moving from and to, and what types of items are involved in your move. To make finding the perfect mover for your big day even easier, you can add photos and specifications of your shipment to your request. This information helps our movers give accurate quotes and ensures nothing is missed.
Once you've set up your moving request, you'll start to receive quotes from our vetted and verified movers in Christchurch relevant to your move specification and area.
Before accepting their quote you can compare prices and get to know each mover by reading previous customer feedback.
From here, simply pick your preferred moving company to arrange collection and delivery.
There's no obligation for the quotes you will receive, so you can take your time deciding on the right removalist for your needs.
No hidden fees
Our prices are final and fully inclusive of petrol and GST, and all other charges. What you see is what you pay.
No hidden fees
Moving can get expensive, especially when extra charges are added to your bill. We have made a real effort to make our pricing clear, concise and transparent. We always aim to be upfront, clear and honest about our prices.
We offer our services at a fair, affordable price, including petrol, GST, and other charges.
What you see is what you pay, so you can be sure you're getting the best possible value for your money.
Wherever You Are
Moving services across New Zealand All Covered. No Hassle.
Napier-Hastings
Kapiti
Whanganui
Gisborne
Blenheim
Pukekohe
Timaru
Taupō
Masterton
Levin
Ashburton
Whakatāne
Rangiora
Feilding
Rolleston
Tokoroa
Oamaru
Hāwera
Gore
Waiuku
Waiheke Island
Greymouth
Wanaka
Motueka
Te Puke
Huntly
Matamata
Morrinsville
Kerikeri
Thames
Kawerau
Waitara
Ōtaki
Lincoln
Kaitaia
Stratford
Alexandra
Dannevirke
Carterton
Dargaville
Cromwell
Waihi
Whitianga
Snells Beach
Marton
Warkworth
Foxton
Taumarunui
Katikati