Moving. It's never a fun thing to do, and there are all kinds of things that you have to worry about when you leave a home or an apartment. If you are leaving your apartment, you will naturally want to make sure that you leave the place in just as good a condition as you found it so that you can get all of your security deposit back. If you're leaving a house, you will also naturally want to leave the home in tip-top condition.
One of the biggest headaches when moving is how to deal with your furniture. Moving furniture around has huge potential to damage your house or apartment, particularly your floors. Moving chairs and tables around can scratch hardwood or tear up your carpets. With all of the potential damage to your floor from moving your furniture, it is important that you know the safest ways to move furniture without scratching or damaging your floors. This article will show you how to do that.
1. Get a Dolly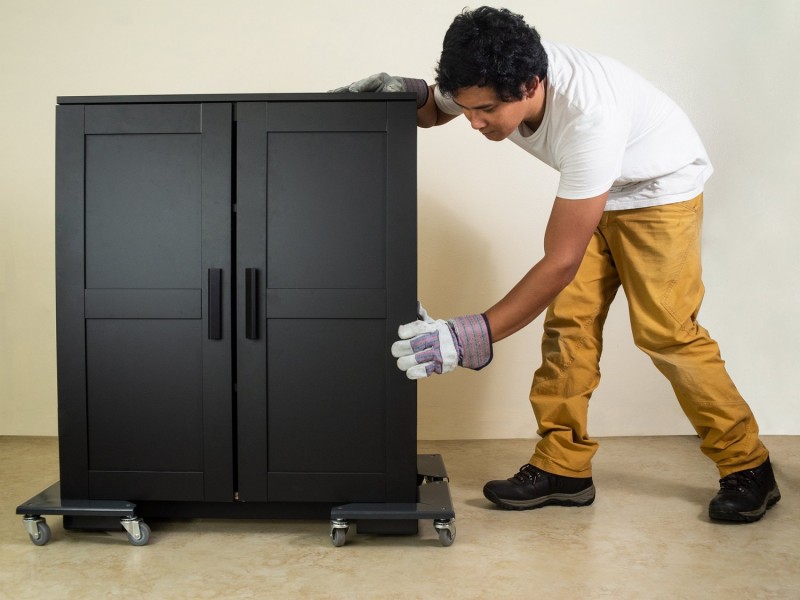 You don't have to carry all of your furniture on your own. Getting a dolly with wheels can make moving your furniture exponentially easier. Instead of picking it up and carrying it out all on your own, placing your furniture on a dolly means that you just have to roll it out of your home or apartment. A dolly will also help protect your floors too. Instead of dragging furniture across hardwood or carpet, you can roll it on the dolly and keep your floors in perfect condition.
If you want to use a dolly, you have several options. If you see yourself using it frequently, you can purchase one from a local convenience store. This is a good option if you may be moving frequently for the next few years or if your move will take a long time. Otherwise, renting a dolly is the way to go. You can rent a dolly from most moving companies for a fairly low price. This choice will give you the best of both worlds—you get to use the dolly to help you with your move, but you save money by renting and do not have to find space to store it once you are done using it.
2. Use a Moving Blanket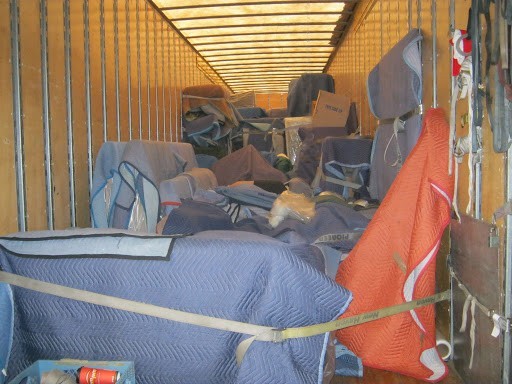 If you like the idea of a dolly, but your furniture is too big or otherwise unwieldy for it to be of any use, look into the possibility of getting a moving blanket. If you don't want to use a moving blanket, you can also use some old normal blankets in your home or even cardboard boxes. The idea behind a moving blanket is pretty simple. All you have to do is lift your furniture enough to slide the blanket underneath, then you can use the blanket as a way to easily slide the furniture out of your home or apartment.
Using this kind of protection while you move your furniture will prevent any hardwood floors from becoming scratched. The moving blanket provides a buffer between the rough or sharp edges of your furniture and the wood of your floors. An added benefit of the moving blanked is that it can also protect your walls, if the blanket is long enough to wrap up around your furniture. Like we mentioned above, if you don't want to pay for specialized moving blankets, you can just repurpose some old regular blankets or even cardboard boxes.
3. Disassemble Your Furniture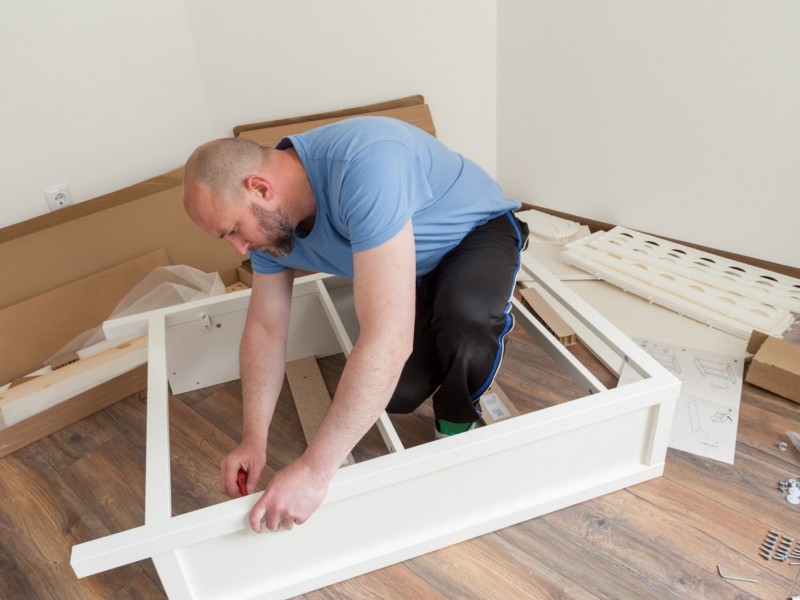 Given the popularity of IKEA recently, we are all used to having to assemble our own furniture when we purchase it. This also has an added benefit when the time comes for you to leave. Rather than having to slide an entire piece of furniture throughout your home or apartment, you can instead take it apart and move the individual pieces. Moving the smaller components of one piece of furniture will save your floors, as you will be able to carry them easily in hand without sliding them on the floor and potentially damaging it.
If you have furniture that can be disassembled, look into doing so when you are moving out. If you can, there will actually be more benefits for you than just protecting your floors. It will save space when you have to move, as you can store the individual pieces of a desk or chair in less space than the assembled final product. It will also save you effort by having to lift less weight. And, of course, by lifting several pieces of a larger item of furniture, you will completely remove the risk of damaging your floors by sliding a heavy desk or table or chair across it.
4. Get Furniture Gliders or Sliders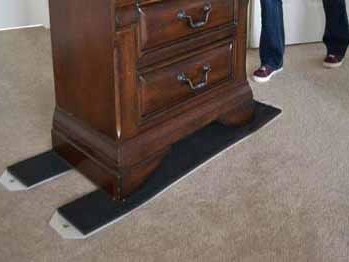 If your furniture cannot be disassembled, you can't slide a moving blanket under it, and you don't have access to a dolly, another option for you is to get gliders or sliders for your furniture. These are special pads that you place on the bottom of your furniture where it has contact with the floor. Typically, they are made of either plastic, rubber, or felt, and they are a cheap and effective way to keep your floors protected.
Once you put them on the bottom of your furniture, you should be able to slide them across your floors without too much difficulty and without worrying about scratching the floor. Naturally, these tend to work much better on hardwood than on carpet, so if you have a heavy desk in a carpeted room, you will need to find some other way to move it onto a hard surface. The other benefit to getting sliders and gliders for your move is that you can leave them on if you are using this furniture in your new place and use them to position your furniture without damaging your new floors.
5. Lift the Right Way
If you have found yourself in a situation where you have to lift your furniture yourself, make sure that you are doing it the right way. Take your time when lifting—rushing will only end up in you hurting yourself, which will not be good for anyone. When you pick your furniture up, never lift it above your shoulders—there's no need for you to lift it too high, you just need to get it up high enough off the ground so that it doesn't scratch the floors.
When you lift your furniture, you also need to exercise the proper technique. If you go to the gym regularly, you may already know this, but for those of you who don't, keep reading to find out how to properly lift your furniture. Most of the work when you lift should be done with your legs, not your arms. Squat down and grab your furniture and lift using your legs. If you follow this technique when lifting your furniture, you should be able to keep yourself from straining your muscles and be able to move your furniture without too much difficulty. Remember, it is a marathon and not a sprint, so there is no rush to lift your furniture too quickly.
6. Make Someone Else Do It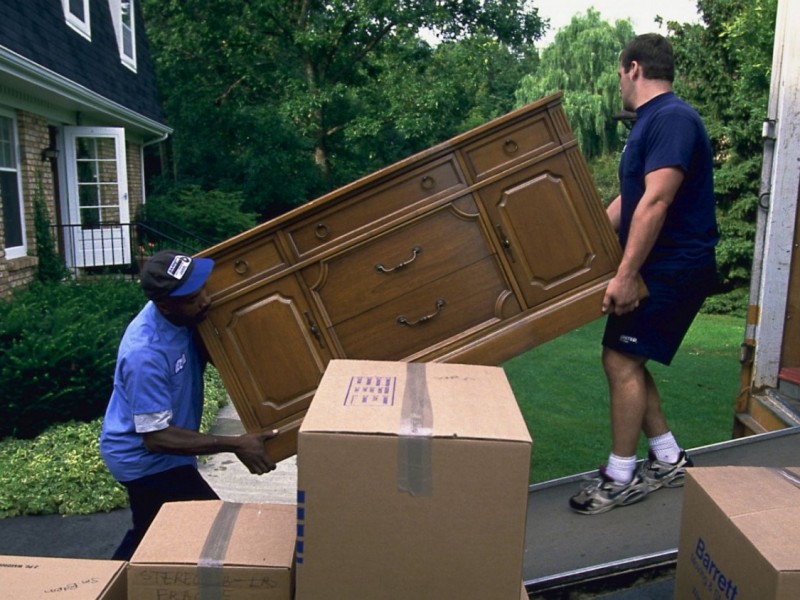 If reading through the previous five points made you never want to move a piece of furniture for the rest of your life, then you may want to look into hiring movers to help you with your move. If you want to keep your apartment or home in perfect condition after you have moved out, then getting help for your move is the safest course of action. While you may be able to do it all yourself, getting professional movers, or even some friends and family, to help you will keep your floors from getting too scratched up in the process.
Wise Move
This is where Wise Move comes in. You can use Wise Move to find the best possible movers for your job. The platform is free for you to use, and it is guaranteed to save you money in your move. By enlisting Wise Move to help you, you will have the moving companies compete against each other for your business, driving prices down and offering you better service. In fact, quotes that you receive from Wise Move tend to be 75% cheaper than quotes received elsewhere. If you think that moving all of your furniture by hand is too much and you need help to make sure that your floors do not become damaged, look into Wise Move to find the help that you need.